What is a Social Test Drive?

It is an extended test drive for

influencers

who are already actively involved on social media. Each participant gives their take of the vehicle they've picked and shares it via Twitter, Facebook, Instagram, YouTube, Foursquare, personal blogs, etc.
Follow
@SubCollection
and
#socialtestdrive
for current drivers and vehicles.
---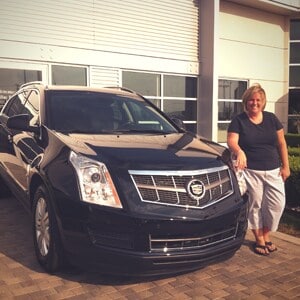 Elena Wollborg

(
@ElenaWollborg
), is known for her blog
Mommy is in Timeout
which showcases the
"Adventures
in Mommydom, Coupledom and Familydom."
On her blog,

she gives a humorous spin on topics you can relate to.
On top of that s
he's
a mom, wife, teacher and hooked on

social media
.
In August 2011 Elena's husband Charlie, known as
@charliecurve, sent Elena our way. Elena had an idea for
a blog post. She offered to take a Cadillac SRX
off our

hands and tweet, check-in, instagram, and blog
about the experience. Little did we know her idea would

grow into what is now the Social Test Drive.
Now, Read
Life Beyond a Minivan in a Cadillac
.
---