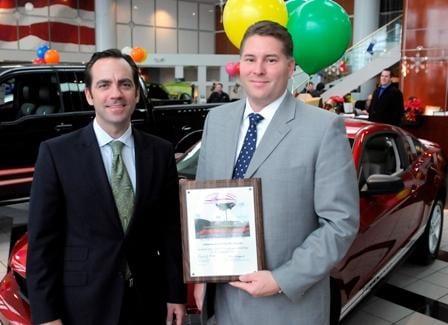 General Manager Jim Elder, left, and Sales Manager Rob Kraemer of Suburban Ford in Sterling Heights display an award the dealership recently received from the Sterling Heights City Council. (Photo by Craig Gaffield)
Suburban Ford of Sterling Heights recently received a "Nice Neighbor" award from the Sterling Heights City Council.

The monthly award was presented in December to Jim Elder Sr., general manager at he dealership, located on Van Dyke Avenue just south of 18 Mile Road.

Elder accepted the "Nice Neighbor" award from Sterling Heights Mayor Pro-Tem Joseph Romano.

Suburban Ford also has a dealership located in Waterford in Oakland County.

Romano said Suburban Ford is part of a coalition of area agencies, such as United Way, Forgotten Harvest, churches and various shelters that provide food for people struggling to make ends meet.

He said David Fisher, chairman and CEO of Suburban Collection, considers the food program an ideal way to share resources and address the need for food in Macomb and Oakland counties.

"Some 50 percent of the food pantries in Macomb and Oakland turned away people in need of food," Romano said. "There are 600,000 people in southeastern Michigan in need of food."

Romano said part of Suburban Ford's efforts include a pair of Ford Transit vans which are being used to distribute food to various food pantries.

"We applaud Suburban ford for its efforts to assist the community and contribute to make the quality of life in Sterling Heights second to none," Romano said.

The dealership has been located on Van Dyke in Sterling Heights for the past five years.

Elder said Suburban Ford appreciate the recognition by the city.

"It's our obligation to contribute to our neighbors," Elder said. "It's good for all businesses in the community to give back to the community as much as they possibly can."