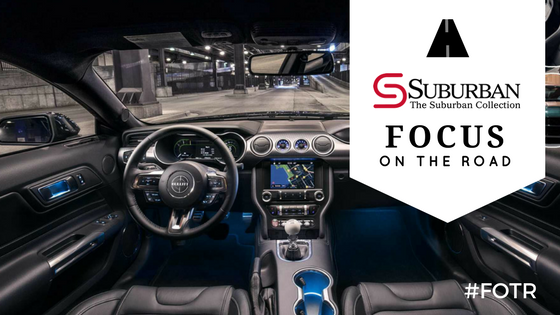 Everyone is well aware of the dangers that come with distracted driving. Unfortunately, the latest report from the National Highway Traffic Safety Administration (NHTSA) shows that this knowledge has been largely futile in affecting behavioral changes and subsequently, the number of incidents and fatalities of young drivers. Among the troubling statistics associated with distracted driving:
Cell phone use is highest among individuals between sixteen and twenty-four.
According to the NHTSA, in the United States, distracted driving kills about 9 people and injures over 1,000 people every day.
The Suburban Collection, Michigan's largest auto dealer, is dedicated to promoting safe driving and has launched our "Focus on the Road" initiative with select Metro Detroit area high schools. We've asked local high school students to create Public Service Announcements that will educate their peers on the dangers of distracted driving in hopes of minimizing this growing epidemic. The initiative was originally piloted with the Troy school district and has now been expanded to additional districts, including Novi, Farmington/Farmington Hills, and Waterford.
PRIZE
The video with the most likes will receive a $2500 scholarship. Second place will receive $1000, and third place will receive $500. The school of the top video will also receive a $500 donation. Each prize scale is consistent per district.
Troy School District
Place:
First
Author(s)
: Rachel Goodman
Video Title:
The Roads Are Already Dangerous
School:
Troy Athens High School
Rachel's reaction after the announcement:
Did you see how we surprised Rachel? She is the winner of our Focus on the Road #FOTR campaign. See more at https://t.co/0iaVDbeL5f pic.twitter.com/KSKa6SDYoZ

— Suburban Collection (@SubCollection) February 13, 2018
Place:
Second
Author(s):
Kaylee Won, Madeline Trumbauer, Isabella Cueny and Quinn Favret
Video Title:
Suburban Collection Texting and Driving PSA
School:
Troy High School
Place:
Third
Author(s):
Hafsa Qureshi & Zahra Ahmad
Video Title:
There's No remind Button in Real Life
School:
Troy High School
Come back to see updates of this campaign in different school districts. If you're children or friends are in future contests, please share the Focus on the Road contest page to see their videos and bring more awareness in helping us eliminate distracted driving.