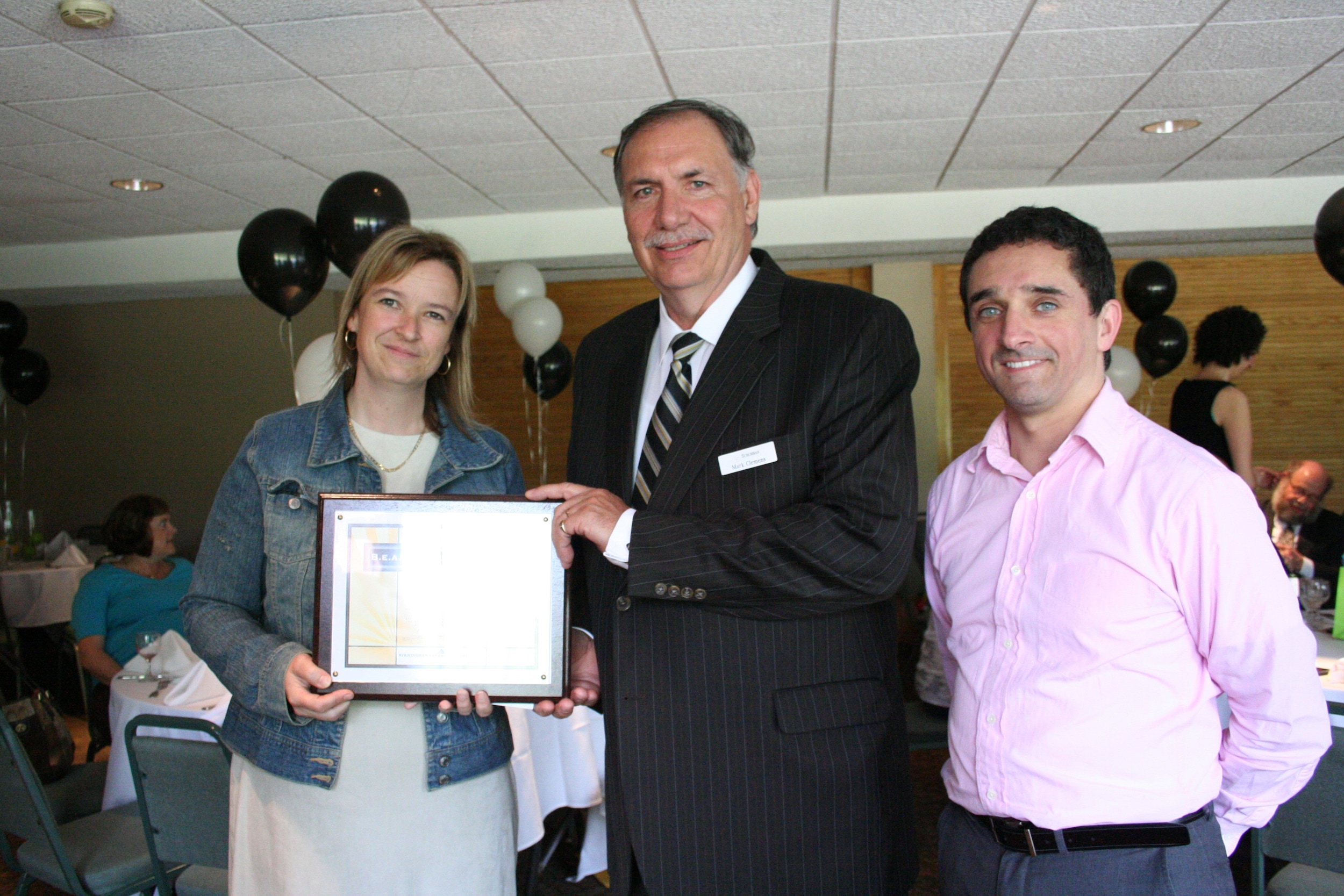 Left to right: Pauline Roberts (Birmingham Teacher of the Year), Mark Clemens (The Suburban Collection), and Scott Marrow (President of the Birmingham Education Association)
In a ceremony today at the St. George Cultural Center in Bloomfield Hills, Pauline Roberts, a fifth and sixth grade math and science teacher, was named Birmingham Public Schools' "Teacher of the Year."
Roberts, who filled the room with positivity amongst her colleagues, said "Thank you so much; this is really overwhelming."
For the ninth year, The Suburban Collection is rewarding Birmingham's top teacher with a free one-year lease on a vehicle. Mark Clemens of The Suburban Collection presented her with the award stating "thank you... the difference you make with children is beyond belief".
Pauline Roberts has been a teacher for Birmingham Schools for 10 years. Roberts developed a comprehensive, green initiative at Birmingham Covington School with the help of parents, staff and students through "Trash Free Friday's" and her "Thinking Green" class.
Fellow teachers, coworkers, parents and students nominated Roberts for this recognition based on her commitment to encouraging students to find their own learning style and helping each student develop strategies to prepare them to be responsible, independent, life-long learners and decision makers.
President of the Birmingham Education Association, Scott Warrow, said "She's been a voice at Birmingham Covington School to help the staff."
David Larson, Superintendent of Birmingham Public Schools (BPS), said to Pauline and the attendants "What you do every day is really a reward representing all the teachers for what you're doing."
Roberts is no stranger to winning awards. In 2010 Pauline was the first BPS teacher to be named a volunteer of the year by the Birmingham Covington School PTSA. Her practice has always transcended the classroom and blurred the lines between teacher, learner and community activist.
Roberts' students are also very noteworthy. In 2010 her fifth grade students were named 2nd place winners in the Siemens "We Can Change the World" challenge, an international competition where the students submitted ideas for protecting and preserving the environment in their own school.
In 2011, Roberts' students received a platinum award in the International Cyberfair Competition, where they utilized their skills in an interdisciplinary fashion to help preserve and protect the Rouge River watershed.
Through Pauline Roberts' dedication and instruction she has enriched and changed the lives of students, parents, staff and the Birmingham community.
Based in Troy, Mich., The Suburban Collection offers an array of automotive solutions to retail and industry customers throughout Michigan and Florida. The company's nearly 60-year commitment to customer service excellence is backed by a comprehensive selection of brand names, spanning 32 convenient dealership locations and AAA-approved auto repair and collision service centers-including two Fischer Body Refinishing locations. The Suburban Collection also operates the Southeastern Michigan Accessory Center (SEMAC), a GM-authorized accessory distributor installer. The company's Competitive Vehicle Services (CVS) division ensures that the latest vehicle models are always within reach of businesses that design and test the vehicle safety of the automobiles of tomorrow.