*** IMPORTANT NOTICE ***

Page last updated July 13th.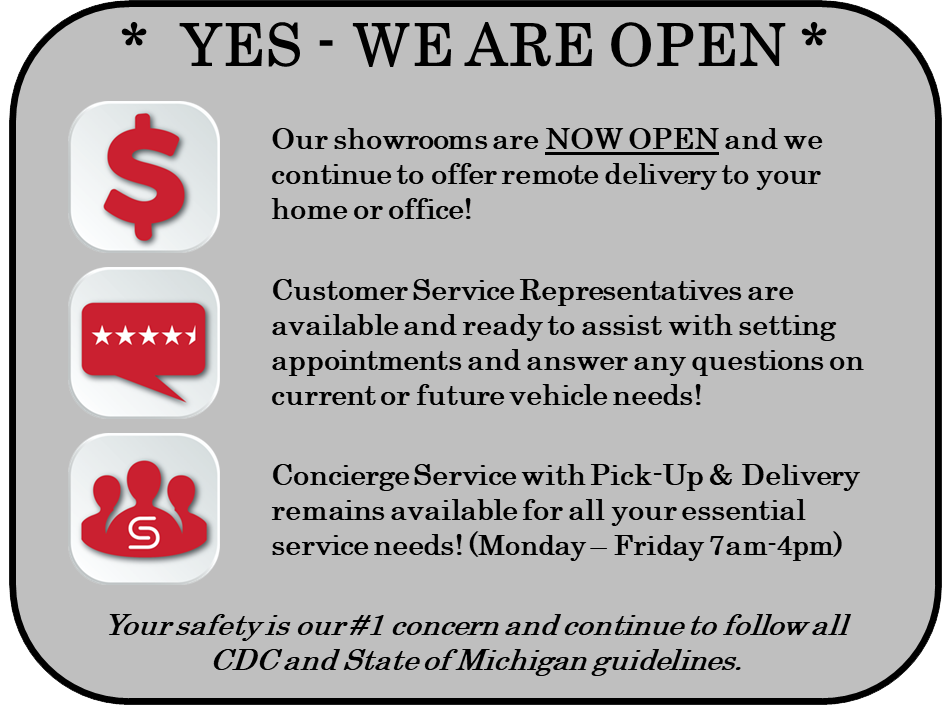 Under the newly revised executive order, as of July 13th, 2020 a face covering is REQUIRED to enter all Suburban Collection facilities.

To help streamline your visit, our virtual showrooms are open and our sales teams are available to answer questions, provide pricing information, value your trade-in, and even walk you through the virtual purchasing process, should you prefer we come to you. Your safety is our #1 concern as we continue to follow all CDC and State of Michigan guidelines. Contact us TODAY and let us know how we can service your needs!
---
What We Are Doing

Here at ­­­The Suburban Collection, the health and safety of our customers and employees is our top priority. We are taking stringent measures to disinfect all of our vehicles, bathrooms, handles, and entire facilities on a regular basis. Now, more than ever, we want to make sure our customers feel comfortable and welcomed in our showrooms.
Below are a few procedures we're implementing to ensure your safety and peace of mind is taken care of:
All vehicles purchased or leased will be delivered to you at your home or work.
Complimentary pick up and return of your vehicle for service and maintenance.
We are disinfecting customer cars - before and after servicing.
We are using seat covers and steering wheel covers on vehicles in for service.
We are disinfecting all rental cars.
Hand sanitizers will be placed throughout the showroom, customer waiting area, and service areas when and where available.
Waiting areas and bathrooms will be disinfected on a regular basis.
Seating in waiting areas will be spaced appropriately out to adhere to social distancing recommendations.
Our employees are following all CDC hygiene protocols.
We are actively monitoring updates from the CDC, World Health Organization and local health departments, to ensure we adhere and stay up to date with recommendations regarding your safety.
Moving forward, our team will continue to do everything in our power to make you and your family feel comfortable in our dealership. When you visit, you'll be met with a warm smile, appropriate greeting, and a sanitary environment. This community, our employees and our customers are always our top priority and together we will work through this. Be safe, be smart, and stay calm. 
We appreciate your support while our dealerships remain open to serve your automotive needs.
The Suburban Collection Team
In The Community

The Suburban Collection is committed to supporting our local communities during the COVID-19 crisis. Our charitable giving efforts are currently focused on two specific areas:

First Responders

We believe that it is important to take care of the individuals who are taking care of us. That's why we support FLAG (Front Line Appreciation Group) of Metro Detroit, an organization providing meals from local restaurants to frontline medical staff at 34 different Southeast Michigan medical facilities. We are also working directly with local police departments to provide meals and snacks for on-duty officers at no cost to them.

Food Insecurity

Food banks have seen a massive increase in applications for food assistance as many people are struggling to provide for their basic needs. We are partnering with both Lighthouse and Gleaners so we can ensure that there is healthy food available for families in need throughout Southeast Michigan. Our donations are funding mobile food sites, quarantine food boxes, and additional measures that have been put in place as a direct response to COVID-19.

The Suburban Collection is continually looking for opportunities to respond to the unique needs created by this emergency. To see more examples of how we are giving back, follow our Facebook page for updates on our community involvement.